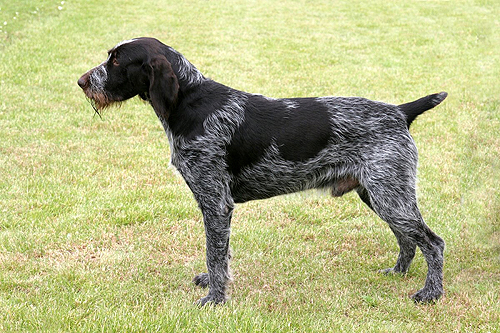 'Žak'
Bohemian wire-haired pointing griffon - český fousek
BORN: 1.1.2004
BREEDER: Jiří Vilkus, Ludheřovice
SIRE: Alan od Hradiska
DAM: Brita od Olší


SHOW HIGHLIGHTS:
European winner Zagreb 2007
Czech Champion, Slovakian Champion, Slovakian Grandchampion, Champion of Poland , Champion of Croatia, Champion of Sweden
The most successful Cesky fousek of KCHČF in 2006 and 2007
Show season ČMKU 2006 – FCI grop VII – 3rd place
Champion of Champions 2007 – FCI grop VII – 4th place
1x BIG 1st place, 1x BIG 2nd place, 1x BIG 3rd place, 1x BIG 4th place
13x BOB, 9x CACIB, Club Winner
My dream to own Cesky fosek came true when I bough Zak, who was two years old at that time. He already had had autumn exams (in czech language - podzimni zkousky = PZ) done and also had took a part at several shows before I bough him. I took a part with him at many shows in our country and abroad as well. He did well, as he is attractive type. Žak is our sweetheart and has even more privilege than Dar. His role is now companion dog. He is unconflictful and easy to handle.