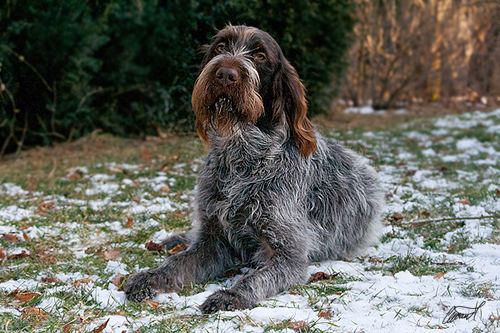 'Erik'
Bohemian wire-haired Pointing Griffon Barbu tcheque - Cesky fousek
BORN: 10.8.2010
BREEDER: Ing. Václav Sobolík, Protivín
SIRE: ICH. Dar z Huťské osady
DAM: Jery z Vilímova
HD: A/A (in 5 years of age)

SHOW HIGHLIGHTS:
Juniorchampion CZ, Champion CZ, , Slovak Champion, Grandchampion CZ, Champion ČMKU, Grand champion SK, International champion od beauty, International show champions
12x BOB, 1x BIG 1st place, 1x BIG 2nd place, 1x BIG 3rd place, 1x BIG 4th place, 1x BIG 5th place, 2x Specialty show winner
The fact that I have Erik is the result of logical sequence. Erik was owned by my brother and I have him for training. I choosed his name by myself. El dorado - means gilded or also land of gold. The imagination is mystically attracting me and I also have close link to latin languages. Erik is benjamin, who has already some very nice show results behind.