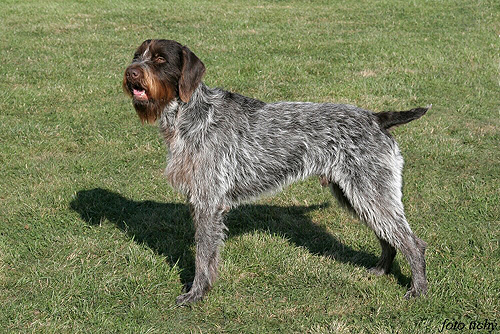 Bohemian wire-haired pointing griffon - Cesky fousek
BORN: 2.6.2007
BREEDER: Václav Šetka, Libořezy, Třeboň
SIRE: Ch. Borek z Duškova dvora
DAM: Dorka z Dubové hráze
SHOW HIGHLIGHTS:
TOP DOG 2009 in the Czech Republic
International Champion of beauty, International show Champion
Representant of Czech rep. at ´Eukanuba World Challenge´ - Long Beach, California, USA - december 2009
Champion of champions 2009 – 2nd place
BIS and BOD – Winner of national show in Olomouc – January 2009
12x BIG 1st, 2x BIG 2nd, 5x BIG 3rd, 2x BIG 4th, 48x BOB
Short listed in grop at EDS Celje, Slovenia
2x Junior Club Winner, 5x Club Winner
Junior World Winner 2008, World Winner 2009, European Junior winner 2008, European winner 2010
The most successful cesky fousek in KCHČF in 2008 and 2009
Juniorchampion CZ, Slovakia, Poland, Hungary, Austria, Croatia
Champion CZ, Slovakia, Grandchampion CZ, Veteran Champion CZ
How did I come to Dar?
It was in the beginning of August 2007, when I went together with Mrs. dipl.Ing. J.Pitrova to look at pppies sired by her very successful dog Borek z Duškova dvora. She went there to choose a female for further breeding. Also club breeding advisor went with us, Mr.dipl.Ing. V.Sobolík. Two boys caught our eyes and Mr. Sobolík choosed Dar as the best. We all knew that he can't stay there and started to discuss who will take him home. In the end they decided I will take him. Dar was very proporcional in body as a puppy, angulated and he looked like a decoration as 'a dog made of ginger bread'. On the way to breeder's place I carried only my handbag and camera and on the way home I carried a puppy in my arms. So next to 'Žak' another griffon came to our home - Dar. It was the moment of destiny. Dar became something we call "life-time dog" to me. Already his first show in Trencin, where he was shown in puppy class, ended up with a great result. In final competitions he stood on second place among puppies from the whole show. Everywhere we came, Dar succeeded. Dar was show at 63 shows and he never got worse result than 'excellent'. Becoming TOP DOG 2009 in our country and by nomination at Eukanuba World Challenge in USA Dar went on the top of cynoligic glory and I accompanied him. I find as great success also the fact that next to great results at dog shows I also trained and presented him at hunting tests. I admire his beautiful perfect and proportional figure. I find this as his biggest quality. Dar is proud dog, who can represent himself and show his selfconfidence.
Trip to USA
After very successful show season in the Czeh Republic in 2009, Dar got highest number of points and was nominated to take a part at Eukanuba World Challenge in California (9.–14.12.2009 ) as a representant of the Czech Republic. On 9th December 2009 we flew from Prague to Frankfurt in Germany, from where we flew next 11 hours to Los Angeles in California. Here we spent one week of unforgotable experience, which remain for the whole life - meetings with other 41 participants and their nominated dogs, who came from the whole world. We all stayed in a wonderful hotel Maya on Pacific coast. We were visiting several conferences, dinnes and many other events. During our free time me and Dar were going by bus to the city center or walking on a beach. I was also answering many questions about who we are and which breed he is. As one of not many dogs, Dar took a part at galadinner, with functionaries of AKC, happily laying under the table. Last few days the competition was on program. First round was on Saturday - showing a dog in rings to judges. On Sunday a final competition was organised in congres hall. Organisation and choreography were done very well - festive onset and individual introduction of each dog. And so Cesky fousek was introdced to american and abroad audience and left there a piece of 'czech pride'. Winner was only one - italian champion of bracco italiano breed. Time went so fast, we went through many experience, that slowly gradually I am able to evaluate particular event. On Monday 14th December me and Dar looked at Pacific ocean for the last time and said: "Good – bye California".